It must have been nice to be surrounded with laces and silks every day, parasols and brooches, hats with feathers, teas every afternoon, visits from friends and visits to friends.
The nostalgia from a bygone era still evokes something inside us that relates somehow to those women who lived before us. Today's society of rushing here and there to just get the job done has turned our world into a place where I feel I don't belong.
I'm guessing I just wish the old things had stuck around for us to enjoy more, not just as a novelty, but a daily routine.
I would certainly not want to live without electricity or air-conditioning.
My dishwasher and I are great friends, but still, the beauty of the antiques around us were the daily utensils of those days long ago.
Although the internet and our cell phones have just about wiped out the snail mail and landlines as means of staying in touch with people, sometimes I like the card in the mail or the postcard from a friend.
They're tangible. I can keep them. I can cherish THEM!
And who knows. Maybe some day years and years from now someone will want those cards I kept. Maybe someone will even want this old cell phone as a prized antique???
I've linked up with Suzanne over at Coloradolady for Vintage Thingies Thursday...
and who would have guessed it:
She's a Doxie Lover!!!!
Check out the Party here: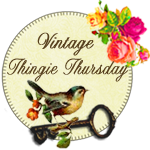 Also check out Cindy at My Romantic Home here:
for Show and Tell Friday!!
Join me today for Pearls and Lace Thursday.
Share with us your pretties and tell us something about yourself.
Add your post url to the Link below and visit those others who have joined.
Thank you!!
Blessings,
Doni