The room is almost ready!! I've started taking pictures and have more to take, but the lighting has to be right. And all the junk has to be hidden , ah, put away in it's place.
So, I took a few pictures and thought you might like a bit of a preview, though it's only going to be a very little preview. I'll show a few bits at the end of this post.
First, I have some pretties to share. Just some items I have that I haven't used lately.
Do you like Hand Painted buttons??
I love them.
OK...and I LOVE pearl buttons too!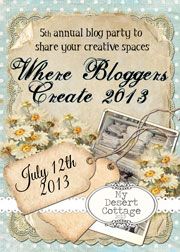 Are y'all going to join the Where Bloggers Create party??? It's hosted by
Karen Valentine over at My Desert Cottage
and it's going to be so much fun! I always spend HOURS looking at all the beautiful and crafty spaces that y'all share and I'm really looking forward to seeing them all again. It's the highlight of my summer. And it gives me an excuse to clean and organize my own craft room!
Speaking of my own room, here's the sneak peek.
I know they're not the greatest pictures, but at least they give you an idea!
I have lots of pictures to perfect and retake, so I'm glad it's still a number of days away. Getting the lighting just right is difficult, and trying to take a crisp shot is hard, but I'm getting there!
OK girls. I'm gonna get back to my room and get it done!
Hope you each have a wonderful week!
Blessings,
Doni